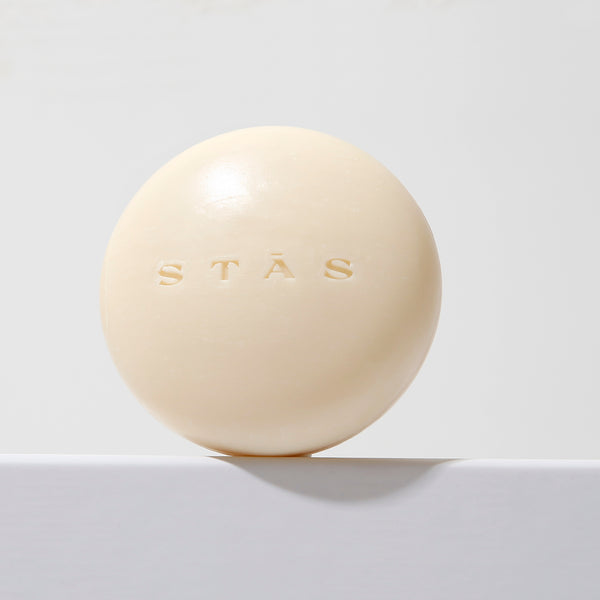 Description
Introducing our STĀS Repair Face Bar! Our face soap is expertly crafted with a unique blend of premium ingredients to rejuvenate your skin. With a salt olive oil base, the STĀS Repair Face bar provides gentle cleansing and extra mild exfoliation.

The STĀS Face bar is more than just a cleanser. The addition of collagen, hydroxyproline, and ceramide 6 II helps to improve skin elasticity and reduce the appearance of fine lines and wrinkles. This revolutionary cleansing bar also contains our signature cocktail of essential amino acids and vitamins that nourish the skin, providing a healthy, youthful glow and promotes overall skin health and vitality.

Our soap is also enriched with potent antioxidants such as vitamin E, glutathione, and Ryoku-Cha Ekisu, which help to protect your skin from environmental stressors, promoting healthy, radiant skin.

This soap is suitable for all skin types and is gentle enough for daily use. With a subtle, natural green tea fragrance, it provides a luxurious and indulgent cleansing experience. Experience the power of nature's finest ingredients in our face soap and achieve a healthy, glowing complexion that exudes confidence and radiance.
Collagen and Biotin
Vitamins B1, 2, 3, 9, 12 and E
Proprietary amino acid + antioxidant blend, including Glutathione and Glycine (known as the "mother of all antioxidants"
Green tea extract to retain moisture, reduce puffiness and fight acne
Paraben Free, Hypoallergenic, Plant-based, No Synthetic Fragrance
Great for All Skin Types
Cruelty Free / Not Tested on Animals
Made in Taiwan
Ingredients
Sodium olive oleate, Sodium palmitate, Aqua, Fragrance, Collagen, Phenoxyethanol, Sodium chloride, Myo-inositol, Biotin, Calcium pantothenate, Cyanocobalamin, Glucose, Folic acid, Hydroxyproline, Arginine, Cystine, Glutathione, Glycine, Isoleucine, Leucine, Lysine, Methionine, Phenylalanine, Aspartic acid, Threonine, Valine, Menthyl Lactate, Sodium bicarbonate, Ryoku-Cha Ekisu (Green Tea Extract), Adenosine, Asparagine, Potassium phosphate, Serine, Tryptophan, Maltose, Vitamin E, Nicotinamide, Pyridoxine-HCL, Thiamine HCL, Sodium phosphate, Ceramide 6 II, Potassium chloride, Riboflavin
How to Use
Use lukewarm water to wet soap and work into a lather. Wash face for 1-minute and rinse clean.
Cautions
For external use only. Avoid getting soap in your eyes. If contact occurs, rinse thoroughly with water. If irritation develops, stop use and get medical help.